The Green Party has councillors in every county in our region: Herefordshire, Shropshire, Staffordshire, Warwickshire, the West Midlands county and Worcestershire.
We now have 52 councillors!
We have 31 councillors on 11 county & district councils
We have 21 councillors on 11 town & parish councils
In Solihull, we have 11 councillors making us the official opposition
This is a big jump from holding just 3 councillors on 3 councils in 2010.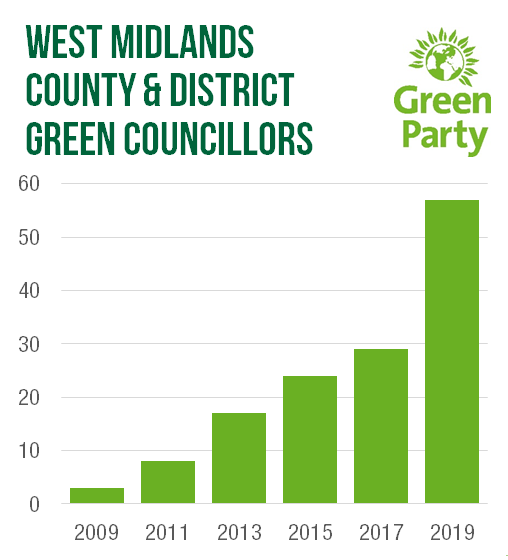 In 2018,
we made further progress:
Gary Burnett won a South Staffordshire parish council by-election in Bilbrook, with over 90% of the vote, and also finished second in a Staffordshire County Council by-election for Codsall.
Rosie Radford won a by-election in the Cambrian ward of Oswestry Town Council. Rosie's win takes the Green presence on the council to six.
We won 5 seats in Solihull, defending seats comfortably in Smith's Wood, Shirley South, Shirley West and Chelmsley Wood with James Burn winning the latter with a record-breaking 78% of the vote! Cheryl Buxton-Sait gained a seat in Castle Bromwich - where no party other than the Conservatives have ever won before!
We gained a third councillor in Cannock Chase as Claire Wilkinson took UKIP's seat in Rawnsley.
We broke through onto Birmingham City Council for the first time as Julien Pritchard won in Druid's Heath & Monyhull. It is hugely important to have a Green voice on Europe's largest council and Julien won by a healthy margin.
We won our second by-election on Bilbrook Parish Council in 2018 as Brigid O'Connor won in South Staffordshire.
In 2017,
the Green Party continued forward:
We won our first ever seat in Shrewsbury, Julian Dean being elected to the Porthill ward of Shropshire Council
Unfortunately we narrowly missed out on two more Shropshire county councillors as Duncan Kerr and Barry Edwards (both in Oswestry) narrowly lost by a few dozen votes between them. Meanwhile, both Duncan and Barry were elected onto Oswestry town council along with 3 other Greens.
In Warwickshire we successfully defended our seats on the county council - Jonathan Chilvers increasing his vote in the Brunswick division of Leamington and Keith Kondakor holding onto his seat in Weddington, Nuneaton in the face of a strong Tory attack
In Worcester, Matt Jenkins won again in his county division of St Stephen, while Jane Moorhouse upset the odds to win a strong 2nd place in St Peters.
Malvern Hills saw two Green wins with Professor John Raine winning his county division of Trinity while Natalie McVey won the West ward in a by-election.
In Herefordshire, Trish Marsh won a March by-election in Leominster South, increasing the Green group on Herefordshire Council to three.
James Burn, leader of the opposition on Solihull Council, ran a widely-praised campaign for West Midlands Mayor, earning plaudits for his impact on the campaign
Stu Crabtree won our second seat on Cannock Chase District Council in Staffordshire - gaining Hednesford South in a by-election.
In November Dr Ellie Chowns won our second Herefordshire by-election of the year, increasing the Green presence on the council to four.
In 2016,
the Green Party made another leap forward:
In Worcester, Neil Laurensen retained his St. Stephen seat and Louis Stephen won in Battenhall. In doing so, the Green Party deprived the Conservatives of a majority and gave the Green Party balance of power
In Solihull, the Green Party won in Shirley West (Maggie Allen), Shirley South (Max McLoughlin) and Smith's Wood (Jean Hamilton). Cllr Chris Williams retained his Chelmsley Wood seat with a whopping 75% of the vote.
In Cannock Chase, Paul Woodhead won in Hednesford South
In Nuneaton, Keith Kondakor retained his Weddington seat
In Shropshire, Duncan Kerr won Oswestry South in a by-election
In 2015,
the Green Party had continued success:
In Leamington, Ian Davison was elected to Warwick District Council
Felicity Norman and Jenny Bartlett retained their seats on Herefordshire Council
In Solihull, Mark Wilson won in Smith's Wood
In 2014,
the Green party won five seats, and held one seat, as well as winning a by-election:
Cllr Andy Hodgson defended Shirley South, and Tim Hodgson (Shirley West), James Burn (Chelmsley Wood) and Stephen Holt (Smith's Wood) all won council seats. With 10 councillors, the Solihull Greens became the opposition, the first time that has happened for any Green Party in the West Midlands.
Ian Bonner won Nuneaton Weddington, becoming the 2nd Green on Nuneaton and Bedworth council.
Wenslie Naylon won Newcastle-under-Lyme's Keele ward with 40% of the vote to become the first Green councillor ever in North Staffordshire.
Jenny Bartlett won the Leominster South by-election for Herefordshire County Council, beating the Tories into 2nd place.
In 2013,
the Green Party won four seats across two county councils (Worcestershire and Warwickshire):
Keith Kondakor won Nuneaton Weddington, beating the Tory county council leader
Jonathan Chilvers won Leamington Spa Brunswick with 62% of the vote from Labour
In Worcester, Matthew Jenkins built on their success from 2012, winning St Stephen division
John Raine won Malvern Trinity by 5 votes after a recount, pushing UKIP into 2nd place.
In 2012,
the Green party successfully defended all its seats in the region, and made several new gains:
Chris Williams was elected in Chelmsley Wood with 63% of the vote.  Two others were both successfully re-elected, taking the Solihull group upto 5 Councillors
Will Duckworth became the Green Party's first ever Black Country councillor, in Dudley
In Worcester, Neil Laurenson became Worcester's first elected Green on 50% of the vote
Nuneaton elected Keith Konkador as Warwickshire's first Green councillor
In 2011,
the Green Party gained a number of seats in the region:
Two new Councillors, Alison Walters and Karl Macnaughton, won in Smith's Wood and Chelmsley Wood in Solihull, with 46% and 51% of the vote respectively.  Cllr Howard Allen, a former Liberal Democrat Councillor, switched allegiances in Shirley West to increase our Councillor base to four seats in Solihull.
Tom Harris won our first ever seat on Stafford Borough Council
Felicity Norman was elected to the Leominster North seat of Herefordshire Council.  The Green Party won 3 seats on Leominster Town Council on the same day.
Luna Deller was newly elected in West Malvern, joining John Raine, who held his seat at the same time.
In Dudley, Worcester, Leamington Spa and Malvern Hills, the Green Party had very strong second places with good chances of winning more seats at the next opportunity.
In 2008,
the Green Party celebrated a huge win in Solihull, where the first Solihull Green was catapulted on to the Council, beating the Council's Labour Leader.  Mike came fourth with 9% in 2007 and first with 45% in 2008.  In Herefordshire, Jacqui Tonge gained a seat on Lower Bullingham Parish Council.
In 2007,
the Greens celebrated a gain in Herefordshire where Gerald Dawe won in Hollington ward, near Hereford, in a four-way nail-bighting contest.  Gerald's principal campaign was against the proposed Rotherwas access road, which passes over an ancient archaeological site much loved by local people.  Greens also held seats on Malvern Hills and South Shropshire District Councils.  At the same election, the Green Party saw the election of Parish and Town Councillors in Leominster and Cradley in Herefordshire, Bishop's Castle and Longden in Shopshire, North Staffordshire, Evesham, Pershore, Malvern Wells, the Lickey Hills and Suckley in Worcestershire.